Pink = English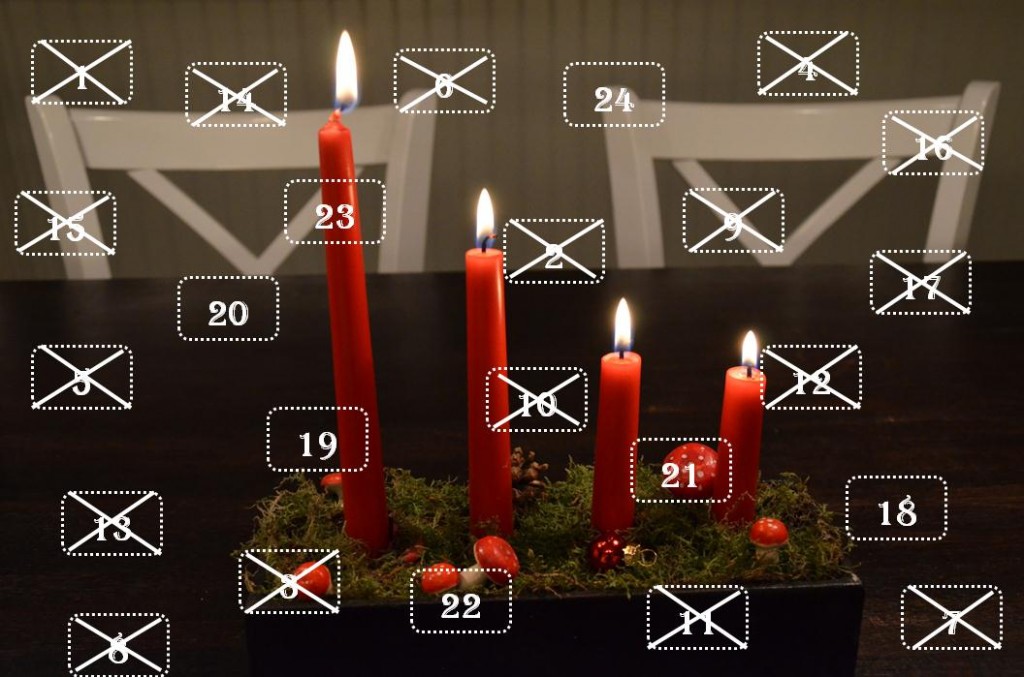 Ibland vill man ha ett gott bröd, snabbt. Inga surdegar och jästider att tänka på. Då är det väldigt smidigt att röra ihop en filmjölkslimpa. Man slipper knåda degen och baka ut den.
Det enda man gör är blandar alla ingredienserna i en skål, häller det i en brödform och gräddar. Klart!
Bakom dagens lucka i kalendern finns idag ett enkelt och gott bröd, med lingon i, för lite julig känsla.
Sometimes one wants a quick and easy bread. No sour dough, no time for rising. It's at those times I am happy to be able to scramble together a sour milk loaf. No kneeding the dough and shaping into rolls or loafs. 
All you do is mix all the ingredients in a bowl, pour into a loaf tin and put it in the oven. After about an hour it's done! Couldn't be more simple. 
So, behind today's flap in the calendar is a sour milk loaf with lingonberries, to add some Christmas feeling 🙂
För två limpor behöver du:
3 dl vetemjöl
6 dl rågsikt
6 dl grahamsmjöl
1/2 tsk salt
4 tsk bikarbonat
2 1/2 dl lingonsylt
1 dl sirap
6 dl filmjölk
Gör så här:
Sätt ugnen på 175 grader C.
Blanda alla torra ingredienser. Tillsätt filmjölk, sirap och lingonsylt. Arbeta ihop degen snabbt.
Lägg smeten i 2 smorda formar som rymmer ca 1 1/2 l.
Släta till ytan.
Grädda bröden längst ner i ugnen i ca 60 minuter.
Stjälp bröden ur formarna och låt sedan bröden kallna på galler under bakduk.
Brödet går att frysa.
Gott med en skiva nygräddat bröd, med smör och ost på, till en kopp te på kvällen.
3 dl flour
6 dl rye-flour
6 dl graham flour
1/2 tspsalt
4 tsp bicarbonate soda
2 1/2 dl lingonberry jam
1 dl treacle
6 dl buttermilk/ sour milk (what is the correct word?)
Instructions:
Put oven to 175 degrees C.
Mix all the dry ingredients. Add the sour milk, treacle and lingonberry jam. Mix it all together. 
Pour the batter into two greased loaf tins.
Bake the breads in the lower part of the oven for about 60 minutes. 
Tip the breads out of the loaf tins and then let them cool on a wire rack, under a kitchen towel. 
The bread can be frozen. 
I like to eat a slice or two while they are still warm, with butter and cheese on, with my evening tea.