Hej,
Oftast äter man mer eller mindre samma sak till frukost, varje dag. Det blir ju fruktansvärt tråkigt. Jag prövade i helgen att göra en citruskompott som jag åt med yoghurt. Annorlunda, supergott, fräscht och nyttigt. Perfekt frukost nu på vintern när apelsinerna är billiga.
Jag blandade apelsiner och blodgrape, men kan använda vilka citrusfrukter man vill och blanda hur som helst. Kanske ska skippa citroner i och för sig 🙂
Kompotten görs i ordning kvällen innan så perfekt när tiden är knapp på morgonen.
Receptet är från www.thekitchn.com
Hi,
We are creatures of habit and breakfast tends to be one of those things that are the same, every day. It gets boring but most of us are tired/cold/stressed (pick one or all of them) in the mornings and weekday breakfast tend to become more of a must than a joy. 
On Sunday I tried a new breakfast dish, made ahead, on Saturday evening. A fresh and zingy citrus compote which feels very healthy. 
I mixed oranges and blood grapefruit but you can use whatever citrus fruits you want, well perhaps not lemons 🙂
You make it in advance, the night before and let it sit in the fridge over-night. Ready to eat in the morning. 
The recipe is from www.thekitchn.com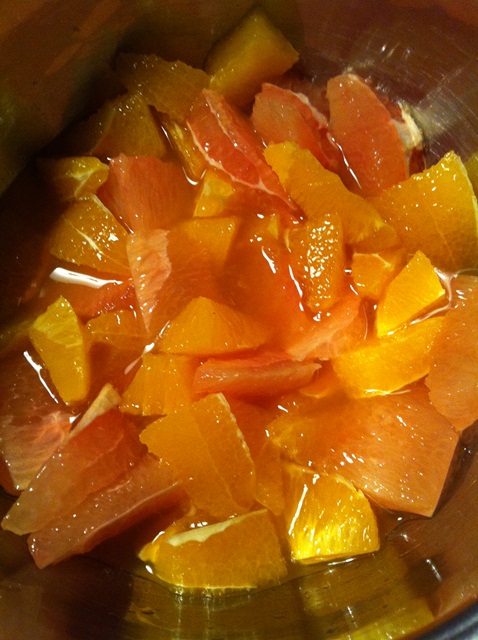 2 grapefrukter, 2 apelsiner och 4 mandariner eller vilken blandning du vill
3 msk honung
1 kardemummakapsel, lite krossad
3 cm ingefära, skalad och skivad
ev. vatten
Gör så här:
Skala frukten eller skär i klyftor och skär sen bort skalet. Skär varje klyfta i två delar.
Lägg frukten i en skål och häll juicen som blir kva rpå skärbrädan i en kastrull, är det lite så pressa ner saften av en apelsin i kastrullen.
Häll honung, krossad kardemummakapsel och ingefära i kastrullen.
Låt koka upp, sänk värmen och låt sjuda i ca 5 minuter.
Sila bort ingefäran och kardemumman eller fiska upp och släng. Häll saften över frukten och rör runt.
Täck skålen och ställ i kylen över natten.
Servera kall eller rumstempererad till youghurt.
2 grapefruits, 2 oranges, and 4 mandarin oranges, or other mix of citrus fruits to make about 3 cups of total fruit segments
A few strips of orange zest or curls 
2-3 tablespoons honey, depending on taste
1 cardamom pod, lightly crushed
1-inch piece of ginger, peeled and thinly sliced
Yogurt, oatmeal, or other breakfast food, to serve
Peel and separate the citrus, or supreme into segments, reserving the juice. Place the citrus segments in a heat-proof bowl.
In a small saucepan, mix 1/2 cup of the reserved citrus juice (top off with water if necessary) with the zest, honey, cardamom, and ginger. Bring to a boil, reduce heat, and simmer for 5 minutes.
Strain the syrup, drizzle it over the citrus segments, and gently stir to combine. Cover and refrigerate the citrus for at least an hour and up to 3 days.
Serve chilled or at room temperature with yogurt, oatmeal, or other breakfast.