Är så trött idag, sov i 12 timmar och känner mig inte bra. Den envisa förkylningen håller i sig.
Har varken ätit frukost eller lunch. Sambon tog med sig barn och hund och åkte iväg för en stund sen. Tyst och lugnt. Jag smög upp och tänkte nalla några chokladbitar ur en ask, där understa lagret var orört.
Döm om min förvåning när jag öppnar asken och det är rätt urplockat och de mörka bitarna från översta lagret fått ersätta den goda chokladen!
Det blir till att ta en kopp te istället. Ska fortsätta titta på The Tudors, serien jag påbörjade igår. Väldigt bra, en hel del sex också, vilket kanske inte är så förvånande med tanke på att serien handlar om Henrik den åttonde 🙂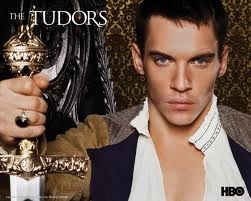 Completely knackered today, slept for 12 hours and am feeling under the weather too. Poor me! The hubby took child and dog with him and went out for a while to give me some peace and quiet. I haven't had neither breakfast nor lunch so I thought I would raid the box of chocolate which still has one untouched layer. Untouched my ass, someone (let's not mention the hubby) has emptied the second layer of all the good pieces, ie the milk chocolate and put the dark choc pieces, which no one likes, in their places.
I guess a cup of tea will do for me. Am going to continue watching The Tudors, which I started on yesterday. A really good TV-series, with a lot of sex in it. Considering it's about Henry the eight I suppose it was difficult not to 😉