God morgon!
Det må vara lite tidigt för att prata om vin, men det är ändå lillördag idag, SÅ jag vill bara påminna er:
Good morning!
It might be a bit too early in the day to talk about wine, but nevertheless, I would like to remind you: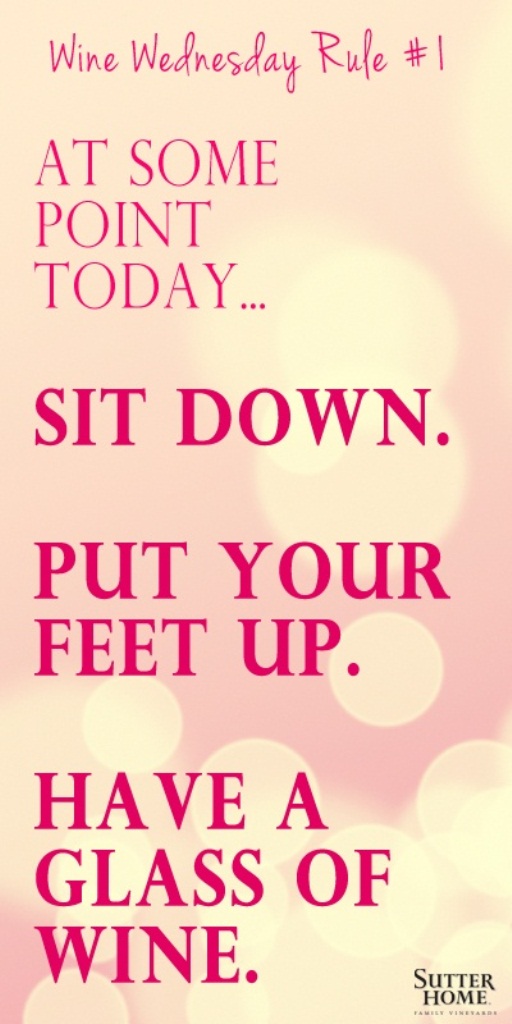 Haka nu inte upp er på det här med vinet. Det viktiga här är egentligen inte vinet, även om jag tycker det är trevligt och att man gott kan ta sig ett glas vin mitt i veckan utan att behöva skämmas.
Nej det  viktiga här är egentligen att sitta ner, lägga upp fötterna och vila lite. Att ta sig tid att njuta en stund. Av lugn och ro, av tystnad, av ett samtal, ett glas gott vin, ett glas kallt vatten, en kopp värmande te eller kanske en bra bok.
Är du som jag så snor du kanske runt mest hela kvällen? Det är handling, matlagning, dagishämtning, nattning och tvätt. Förberedelser för nästa dag, lappar som ska fyllas i, räkningar som ska betalas, sopor som ska ut och disk som ska tas om hand. En hund som behöver en promenad och kanske att man skulle ta och hinna raka benen också? Kanske det blir en stund framför TV:n?
Vad du än gör, tänk på att sätta dig ner och bara vara en stund. Att göra något du vill, som inte är relaterat till någon annan.
Ha en fin dag!
Kram Christine
Now, don't get stuck on the whole wine thing. The wine is not the point here, eventhough I find it enjoyable and think one should be able to have a glass of wine in the middle of the week without having to feel like an alcoholic (in Sweden this tends to be the general opinion, drinking is for Fridays and Saturdays).
No the point here is to sit down, put your feet up and just relax for a while. To take time to enjoy something. Enjoy the peace and quiet, a conversation, a glass of good wine, a glass of cold water, a warming cup of tea or perhaps a good book. 
If you are anything like me you probably spend most of the evening running around the house fixing things. Shopping, cooking, pick up at daycare, putting children to bed, laundry. Preparing for the next day, filling in notes from school or daycare, paying bills, taking out the trash and taking care of the dishes. Perhaps there's a dog that needs walking and what if one should make time to shave one's legs?
Perhaps there is time for watching TV?
Whatever you do, remember to sit down and just be for a while. Do something that you want to, which is not, in any way related anyone else.
Have a nice day!
Love Christine