*Scroll down for English
Förra veckan lagade jag flera rätter ur det senaste numret av Elle mat och vin, där temat var mat från olika delar av världen. Det var blandat resultat vill jag lova. Det får man ju ändå förvänta sig när man prövar recept för första gången, men den ena rätten var så katastrofal att jag fick slänga allt och ta fram nödproviant från frysen. Det är inte ofta det händer.
Jag tänker inte ge er receptet men det jag glad i hågen försökte tillaga var Vadai, en slags indiska friterade munkar gjorda på röda linser. Det såg så himla gott ut på bilden och lät inte så svårt att göra, men oj oj oj vad jag bedrog mig. Själva smeten var inte alls svår att göra. Röda linser på burk, chili, gul lök och ingefära mixades ihop till en smet. Den skulle man sen forma till bollar, göra ett hål i varje boll och sen fritera i ett par minuter. Det låter ju inte SÅ svårt. Min smet var nog för lös för mina munkar löstes upp till ingenting i den heta oljan. Jag försökte sen att steka dem i stekpanna istället, men inte heller det funkade. Det var bara att slänga och börja leta i frysen.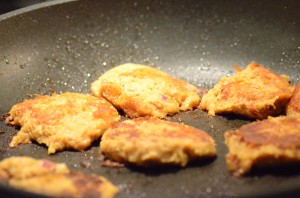 Som tur lyckades jag rädda den kvällens middag med små vårrullar istället. Köpte ett stort paket frysta vårrullar för ett tag sedan och tänkte att de där kan nog bli bra att ta fram någon gång och ha som som snabb förrätt. Nu kom de väl till pass. Se, jag tjatar om att man inte behöver köpa färdig  mat men även jag faller för snabbt och färdigt ibland. Den här typen av vårrullar är mycket godare än den tjocka kinesiska varianten tycker jag. Väldigt roligt att göra själv dessutom, om än lite pilligt, men det får bli ett annat inlägg.
English:
Last week I cooked several dishes from the latest issue of Swedish Elle food and wine, in which the theme was food from around the world. Well, let me tell ya I had a VERY mixed result that week. Of course that is what can be expected when one tries out a new recipe but still, one of the dishes was SO bad I had throw it all away and go straight to Plan B (ready made stuff from the freezer) And that my friends dows not happen often!
I am not even going to share the recipe with you but what I tried to make is Vadai, a sort of Indian donut made from red lentils. It looked so good in the picture and I wanted to evoke memories from our trip to India a few years back. It didn't seem too difficult to make but boy was I wrong!
The batter itself was not difficult at all to make. Red lentils, onion, chili and ginger all mixed to a fine paste. Then one was supposed to form balls and make a hole in them and then deep fry them.
Doesn't sound too hard now does it?
But I think my batter was too soft/loose because my donuts dissolved into nothing. They just vanished in the hot oil! I even tried frying them in a frying pan but nothing worked. All there was left to do was to toss it and do something else.
That's when I came to think of the packet of spring rolls I had in the freezer. I bought them some time ago thinking it would make a perfect quick and tasty starter for an improvised dinner party. Now they came in handy.
Now I know I keep going on about how unnecessary it is to buy ready-made food,as food which is done by you is so much nicer, cheaper and better. But see, sometimes I too fall for the quick and dirty-solution. I think this type of spring rolls is so much nicer than the thicker dough Chinese version. Having said this I must also say that making these sort of spring rolls yourself is a lot of fun but that's another blog post.
Lessons learned from this kitchen adventure:
One should never be afraid of trying something new, or to fail for that matter. But do have a Plan B!
Love
Christine