* Scroll down for English
Hej,
Brukar du skicka blommor till folk? Finns det någon du tänker på men som du inte har möjlighet att träffa? Ett blombud är något alla blir glada för. Det känns oerhört lyxigt, både att ge och få. Jag tycker om det sättet att skicka någon en tanke eller visa min uppskattning och jag älskar att få blommor med bud. Sambon har fattat ett par gånger att det ger pluspoäng 🙂
Det är ju dock lite dyrare än vanligt, eftersom det tillkommer en serviceavgift men tänk om den större delen av pengarna gick till välgörande ändamål? Då skulle det ju kännas mycket bättre. Man skulle dels göra någon glad med en blomma, och dels hjälpa en annan människa.
Euroflorist har tagit fasta på detta och har ett erbjudande där man kan skicka en amaryllis, denna vackra julblomma, till någon och samtidigt skänka en get till en behövande familj i Zambia. Detta i samarbete med Barnfonden. En väldigt fin idé som fler företag borde anamma.
549 kr kostar det totalt att skicka denna speciella julblomma, i det priset ingår fraktkostnaden. Av den summan går hela 350 kr till geten.
Getmjölken ger barnen viktig näring och killingarna kan så småningom säljas på den lokala marknaden, vilket ger familjen en inkomst. Blomman levereras med ett fint kort som visar att du skänkt en get genom Barnfonden.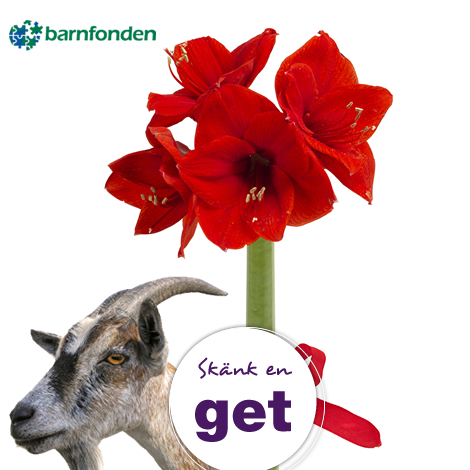 Blev du inspirerad att skicka en blomma?
Klicka HÄR för att komma till Euroflorist.
Ha en bra dag och kanske kan du göra skillnad för någon annan idag, på ett eller annat sätt?
Kram Christine
English: 
Do you ever send flowers to someone? Is there someone you are thinking about but don't have the possibility to see? A flower delivery is a very luxurious present to both give and receive and something everyone likes to get.
I like to show someone I think about them or show my appreciation by sending friends and family flowers. Even the hubby has got the hint a few times, and realised it gives him extra points 🙂
However, it is a bit expensive, especially with the service charge. But what if the larger part of the cost went to charity? That would make things a lot better. You would make someone very happy by sending them a flower, as well as helping another person.
Euroflorist has realised this would be a good idea and they therefore offer an amaryllis, this gorgeous christmas flower, to be sent to someone as well as a goat to a family in need, in Zambia. This is in cooperation with a charity called Barnfonden, which is part of the Childfund Alliance network. They work to create long-term and meaningful change for children and families in poverty.
I think this is a wonderful idea, which more companies should embrace.
Please note this might not be something that Euroflorist offers in all the countries they are active in, but if not, there are plenty of other charities and organisations that want and need help.
Goat's milk gives the children important nutrition and the (goat's) kids can then later on be sold at the local market, which will give the families an income. The flower is delivered together with a nice card showing that you have donated a goat through Barnfonden. 
Have a nice day! Perhaps you can make a difference in someone's life today, in some way. 
Love Christine